Genevieve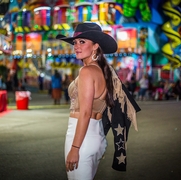 Genevieve was born in the Gulf Coast region of Texas and competed in Rodeo and Piano at the State and National levels all of her life. Music has always been a huge part of her life. She initially studied classical piano, competing all across Texas. But her musical world changed forever when her best friend turned on Houston's 93Q and she heard her first country song. It was a Garth Brooks song. Genevieve quickly became obsessed with the music written about her world of rodeo and horses. She bought a guitar and started learning the music of her heroes: Garth, Chris Ledoux, George Strait, Merle Haggard, and others.
Soon after, Genevieve began writing her own music; the first song from her pen was about the classic love tragedy of a cowboy, a girl, and a rodeo. She co-produced her first album, "Whiskey Kisses," with Worley McKinney, releasing it in early 2014. That album, and her live performances, caught the attention of the legendary songwriter Chris Gantry, who brought her to LandStar Entertainment. She signed with LandStar in 2015.
In early 2016, Genevieve cut her first three singles in Nashville's legendary Hillbilly Central studio, produced by fellow Texan, Adam Fears. Fans of the Outlaw movement will remember that it was created by Tom Glaser and Waylon Jennings in that very building in the mid 1970's. Genevieve's first single, "Rob That Train," co-written with Fears, went to country radio mid 2016 and broke the top 40 on the Texas Charts.
Genevieve is an endorsee for Priefert Ranch and Rodeo and is the female face of the Priefert line of new lifestyle clothing brand "OPEN THE CAGE". She is also an endorsee for Charlie Five Inc. and is on the ProStaff team for WSI Sports. Genevieve Allen is sponsored by RopeSmart, Gonzales Hat Company, and WSI Sports.
Genevieve recorded her sophomore album as an independent artist. Her first single "Damn This Rodeo" went to Texas Radio and for 8 weeks remained in the top 10 downloads for radio stations on CdTex and broke the top 100 on the Texas charts. Her second single off that album "Boothill" , she co-wrote with fellow Texan - Drew Fish from the Drew Fish Band. It also broke the top 90 songs on the Texas Charts. Her most recent release "Lady Liberty" also broke the top 100 of the charts. Currently Genevieve is in the process of making a new album which she plans to release some time this year. She plays fairs and rodeos and dances with her band all across Texas and The West. While the Western influence is undeniable in her music, Genevieve modernizes her sound with gritty rock vibes. She writes about the way of life that she knows: the rodeo world and wide open spaces.
Share this: