2020 Winners
Even though the Titus County Fair was cancelled this year due to the Covid-19 pandemic, our Fair Board voted to go ahead and give our annual Scholarships. Each year we give the top Boy and Girl a $2500 Scholarship and two $1500 Scholarships to the 3rd and 4th ranking applicants.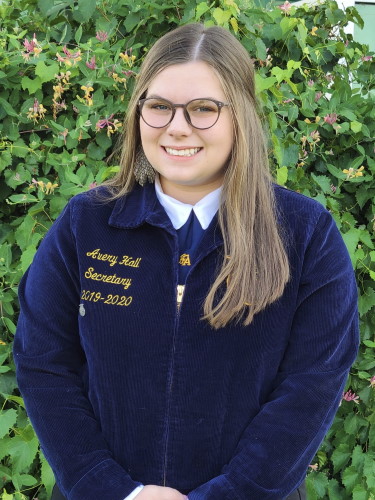 ​This year we are happy to announce that Avery Maren Hall is our first $2500 recipient . Avery is ranked 7th in her graduating class at Chapel Hill High School. Avery is the daughter of Mike and Telly Hall and has built quite an impressive resume. Her love of agriculture began after an ag teacher approached her about possibly showing broilers. She is now very active in FFA, currently serving as Chapter president. She was Paris District Secretary 2019-20 and has served as Chapter Vice President and Chapter Parliamentarian. She is also a member of the National Honor Society, Phi Theta Kappa and National Speech & Debate Association among others. She was a Varsity Cheerleader for two years, has been her Class Vice President, Class Treasurer and is now serving as Student Council Representative for her Class. She is also very active in her church currently serving as Children's Ministry Intern and also volunteers for several Community Service Organizations. Avery has participated in the Titus County Fair every year since 2008, from the poster contest to Academic Rodeo Essay, Speech and Bible Scripture Reading Contests. She has had entries in Photography, and exhibited Market Broilers as well as competed in Junior and Senior Prepared Public Speaking. This year she plans to exhibit Market Broilers and a Market Goat and would have competed in Senior Prepared Public Speaking had the fair not been cancelled. Avery has also competed in Agricultural Speaking in the Paris FFA District as well as every major livestock show in Texas. She will graduate with her Associates Degree from NTCC in May 2021, and transfer to Texas Tech University to pursue a Bachelor of Agricultural Education with a minor in Animal Science. She plans to become an Agri-Science Teacher in some rural school district to help instill the love of agriculture into her students as her Ag teachers did for her.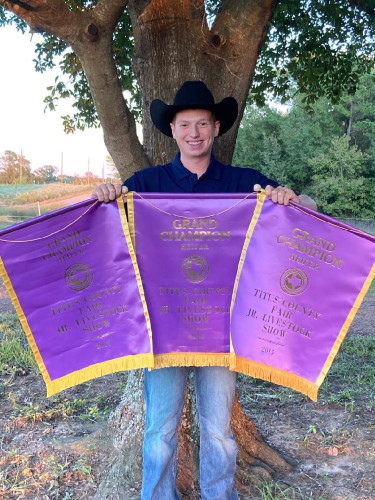 The young man receiving the second $2500 Scholarship is Garry Daniel Taylor, son of Chad and Kelly Taylor. Daniel is ranked 4th in his graduating class at Chapel Hill High School. He is very active in FFA where he served as Chapter Reporter his Junior year and is currently serving as Chapter Secretary. He has also been on the FFA recruitment committee and attended many Leadership & Career Development Events as well as Area and District FFA Conventions. He is also a member of the Fellowship of Christian Athletes and received Academic Blankets in Chemistry, Physics and Computer Animated Design. He has participated in the Junior Fed Beef Career and Leadership Program, Aggie Commercial Steer Camp and attended the 92nd National FFA Convention and Expo. Daniel has served at the Farm Bureau Annual meeting and attended the Texas Farm Bureau Leadership Camp which was held virtually for the very first time this year due to the Covid Pandemic. His work experience includes all aspects of his family's farm with duties including: Cattle Operations & Transportation, Hay Crop Production, Equipment Operation & Maintenance, Ranch Infrastructure, and Cattle Sales. Daniel's Fair experience began in 3rd grade when he exhibited two Market Goats. Each year since then ( 4th thru 11th grade) he has exhibited from one to three Simmental Heifers in the Heifer Show and had the Grand Champion Heifer in 2015, 2016 & 2017. He also participated in Livestock Judging in 2015 and 2016. He had plans to show another Simmental Heifer at this year's fair, but the Heifer Show was cancelled. He has also exhibited Heifers in every major Livestock Show in Texas. Daniel plans to attend Texas A&M University majoring in Agriculture Management Systems with a double minor in Business and Architecture or Computer Science, thereby preparing himself to run any agriculture business and manage it efficiently and effectively. He hopes to eventually start his own cattle operation and hay business to grow and pass down to the next generation of farmers and ranchers in his family.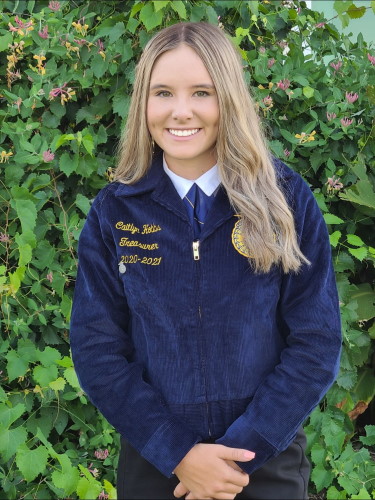 The first $1500 Scholarship recipient is Caitlyn Rose Hobbs, daughter of Lance and Angela Hobbs. Caitlyn is a Senior at Chapel Hill High School and is Salutatorian of her graduating class. She is very active in Chapel Hill FFA where she currently serves as Vice President and Paris District FFA Treasurer. She has held offices of FFA Secretary and Student Advisor, and is currently on the Poultry Judging Team, has been Greenhand and Senior Creed Speaker, on Floriculture Team, and State Qualifier on Public Relations Team in 2019. She was on the Varsity Cheer Team as Captain in 2019-20 and the Junior Varsity Volleyball Team. Caitlyn currently serves as Class President of the Class of 2021, has received Academic Blankets in FFA Livestock, AP World History, and Pre-AP Algebra I. She is active with First Baptist Church's Thanksgiving Food Roundup and Operation Christmas Child. She also volunteers with Ministering Our Military-Carry The Load. Caitlyn's Fair Participation began in 2011-2016 with the Academic Rodeo , 2013-2019 She exhibited Market Goats receiving Reserve Grand Champion Honors as well as Champion Senior Goat Showman in 2018 & 2019. She also participated in the Heifer Show in 2018 & 2019 receiving Grand Champion Heifer and Reserve Grand Champion in Senior Public Speaking in 2018. In 2019 she received Champion Senior Heifer Showman and Reserve Champion Senior Public Speaking. This year she plans to exhibit two Market Goats and one Market Lamb. She had plans to compete in Public Speaking again this year, but it was cancelled with the Fair. Her work experience has been mostly on the family farm working side by side with her Dad, and babysitting for neighbors, friends and family. She enjoys spending time in nature which brings peace and relaxation. After graduation, Caitlyn plans to attend Texas A&M University pursuing a Bachelor's degree in Psychology, then transfer to Baylor University to pursue a Masters then Doctorate Degree. Eventually she hopes to own her own private Practice to treat patients as well as continue research to advance the field even further.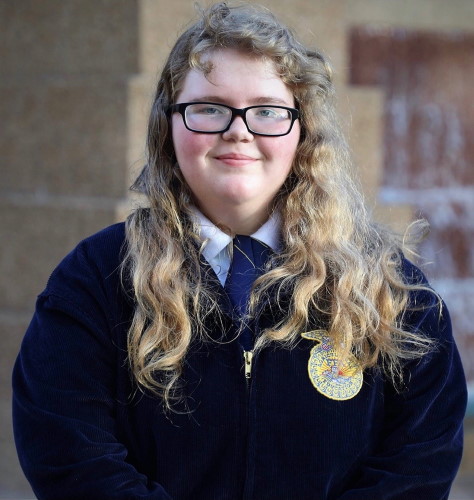 Our second $1500 Scholarship recipient is Ashley Raelynn Tabor, daughter of Lynette Tabor. Ashley is a Senior at Mount Pleasant High School. Ashley is very active in the Mount Pleasant FFA. In fact, you could say it is her purpose in life, thanks to an Agri Science Teacher who took the time to turn her on to the Agricultural way of life her Freshman year. More on this later. She served as Chapter Chaplain 2018-20, is currently serving as Chapter Secretary, and was Greenhand Secretary in 2017-18 and received her Chapter Degree in 2019. She has participated in many events through FFA including: Farm Bureau Dinner, FFA Day of Service, District Officer Candidate, Plant Sale, Quiz Team, Skills Team, Franklin County Handicapable Rodeo, Horse Judging Team, Master Gardner Expo, Ag Olympics, Greenhand Camp, Naples Rodeo Concession Stand, O.B.Goolsby Chili Cook-Off, Texas FFA Ambassador, Tiger Expo, Titus County Christmas Parade, Trunk or Treat, Adopt-A-Highway. Ashley received the Top Greenhand Award , and Top Seller Award for Fruit and Meat for two years. Ashley received the Best overall Student in Algebra Award in 2017-18 and is active in the Youth Group at St. Andrews United Methodist Church. Her fair participation includes: Education Day Concession Stand Worker, Group Leader & Pig Project; Fair pens set up for two years, FFA Concession Stand for three years and Raffle Ticket Sales for two years. This year she will be exhibiting Market Rabbits and her Ag Mechanics project. After graduation, Ashley plans to attend NTCC for her Associates Degree, then transfer to Texas A&M University, Commerce to pursue a Bachelor's Degree in Agricultural Sciences with emphasis on education. She always thought she would work in some clerical position, but her aspirations changed when she moved out of her comfort zone and took an agricultural science class her Freshman year. She reports her teacher inspired her in ways she had never imagined, stating "she watered my growing passion for agriculture." She states she fell in love with animals, plants, and FFA. She found her niche in Principles of Agriculture and it helped to shape her future career path. She reports she knew from that first class that she wanted to inspire young minds and help them find the joys of agricultural life just as her teacher had helped her find hers.
The Titus County Fair Association wishes to thank all the Agri Science Teachers who tirelessly pour themselves into the lives of their students. Many lives have been changed by one teacher's willingness to listen to their gut and go the extra mile for a student who needs a little extra help to get on the right path. May God richly Bless you all.
Congratulations to all the Scholarship winners!