2013 Winners
Titus County Fair 2013 Scholarship Winners
This year the TCF Board of Directors agreed to award scholarships to four outstanding students. As the fair continues to grow, we feel these scholarships are one of the best investments we can make.
Madison Brooke Russell, Jakob Michael Rosewell, Shonda Renee McNeil, & Breanthony Nychole Baker have been chosen as this year's recipients.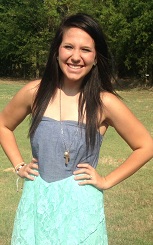 Madison Russell, a Senior at Mt. Pleasant High School, is the daughter of Steve & Adina Russell. She is a member of Trinity Baptist Church and is very active in school and community activities. Madison is presently serving as President of Mt. Pleasant FFA, where she has served as an officer each year of High School, and is also serving as Area 6 FFA Vice-President. She is a member of HOSA (4 years), MPHS Student Council (4 years), MPHS Tiger Dolls (3 years-currently serving as Sergeant), and was recently chosen Miss MPHS.
Russell's fair participation began before she started school when she entered her Rat Terrier in the Junior Auxiliary sponsored Pet Show. The Academic Rodeo was a favorite as she entered the Science Fair (K-3) and the Speech Contest (2-8) where she earned 1st or 2nd place each year she entered. She also has participated in the Bake Show (3 years) and Photography Contest each year, and this year will exhibit landscape photos of her trip to Germany, Italy, Austria & Switzerland this past summer with Texas Students Abroad. She works various Tiger Doll & FFA booths each year as well as decorating pens, setting up and taking down fencing, & participating in FFA Education Day. Madison has exhibited pigs and/or steers and/or heifers each year since 3rd grade receiving Overall Reserve Champion Heifer in 2012. This year she has a steer and 2 heifers that she will be showing along with her other fair duties. She plans to attend Texas A&M University, College Station or possibly Mary Hardin Baylor to pursue a degree in Communications.
---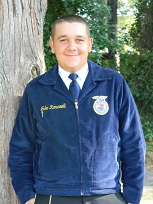 Jakob (Jake) Rosewell, a Senior at Chapel Hill High School, is the son of Kenneth & Tammie Rosewell. He attends South Jefferson Baptist Church, and is a member of the Youth Group there. Jake was a member of 4-H many years and is now an active member of the Chapel Hill FFA where he currently serves as Chapter Vice-President. He has received many honors including Greenhand and Chapter FFA Degree as well as the Lone Star Degree.
Rosewell's fair participation began in third grade when he started exhibiting Market Broilers through 7th grade. Since then he has exhibited a steer and heifers every year. He also helps with set-up and taking down of the fencing and pens and participates in Education Day since his Freshman year. He enjoys clipping and fitting cattle for major shows and will be busy with his steer and heifer that he plans to exhibit at this years fair. His work experience includes: C&M Poultry, Curry's Pools & Spas, and is currently employed by Randy's Burgers. Jake plans to attend Texas A&M, Commerce with a double major in Nursing and Animal Science. He hopes to become a Nurse Practitioner and someday own a purebred Limousin cattle operation.
---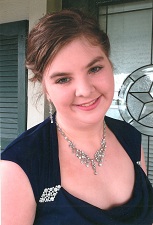 Shonda McNeil, a Senior at Chapel Hill High School, is the daughter of Tina Par and the late Craig McNeil. She is active with the Youth of The Nazarene Church, Pittsburg where she attends with her Grandma McNeil. Shonda is very active in school and community activities including FCA, FCCLA (officer for 4 years), NHS, JCA, & FFA. She has received FFA Greenhand, Chapter & Lone Star Degrees, and entered Area 6, Houston Livestock Show, & San Antonio Livestock Show Speaking Contests, and was delegate to State FFA Convention in 2012 & 2013. She has been a school library assistant since 2010 and volunteers for Reading to Elementary students. Shonda has exhibited Market Goats every year since 3rd grade and also a Market Lamb in 9th & 10th grade. This year she plans to show her Market Goat as well as help set-up and take down fencing & pens. Other interests include: Horseback riding, Fishing, Hunting, Camping, Going to Camps, Taking pictures, Drawing, Playing Board Games, Reading, Writing, & helping her grandfather sort, brand, vaccinate, and manage his cattle herd.
Shonda plans to attend NTCC for her basics, then transfer to Vista University, Longview to become a Licenses Veterinary Technician, with a minor in Spanish.
---
Breanthony Baker, is a Senior at Chapel Hill High School, and is the daughter of Kelly & Tabatha Baker. She attends Circle C Cowboy Church and enjoys volunteering with Neighbor to Neighbor (Soup kitchen), Handicapable Rodeo (for Special Needs Students & Adults), Salvation Army's Ringing of the Bells, & The Truman Home (for Special needs children). Bre is a member of Chapel Hill FFA, where she enjoys competing in LDEs, CDEs, & Speech Contests and has received Greenhand, Chapter, & Lone Star Degrees and advanced to State in Soil Stewardship Public Speaking, Forestry Team, & Senior Prepared Public Speaking. She is also a member of the Junior Chamber of Commerce. FCA, and Green Team.
Baker's fair participation began in elementary with the Academic Rodeo. In 2011 & 2012 she built projects and competed in Ag Mechanics. She has worked the gates collecting tickets and helped to set up and take down fencing & pens for the past two years. This year she plans to show her Boer Goat, Buzzy Boy, along with her other fair duties. She is currently employed by Bruechner Animal Hospital as kennel caretaker.
Bre is currently ranked 2nd in her graduating class and plans to attend Texas A&M University, Commerce Honors College for her Bachelor's Degree in Animal Science and transfer to Texas A&M, College to pursue a Doctorate in Veterinary Medicine.