Scholarship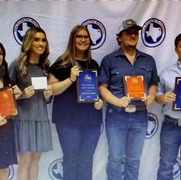 Each year the Titus County Fair Association awards a graduating boy and girl resident of Titus County scholarships to further their education at a college, university or trade school. Each scholarship is in the amount of $3000. This year we are awarding two additional scholarships in the amount of $2000 to the third and fourth place candidates. Selection of the recipients will be based on merit as determined by the Out of County Judging Committee.
Qualifications of Applicants
Selection criteria includes:
Student's high school academic record
Eligibility for college/university admission
Leadership as demonstrated in school and community activities
Participation in the Titus County Fair
Financial Need
Character
Future plans
How to Apply
Applications may be printed from the Online Application site.
Each applicant should attach
Small photograph
High school transcript
Statement concerning plans for college and career. Include personal and/or biographical information which you think will help or be of interest to the selection committee.
Applications must be turned back in to your School Counselor no later than September 18, 2023.
For Recipients
Each scholarship will be paid directly to the student in two installments.
The first installment will be paid upon proof of registration for a minimum of 12 hours at a college or university.
The second installment will be paid upon proof of completion of a 12-hour semester with a minimum 2.0 GPA, and registration for a second semester with a minimum of 12 hours.
Recipients will have two years from date of graduation to claim their awards. (Example: 2023 winners will graduate in May of 2024. Each winner will have until the Spring Semester of 2026 to use the scholarship.)
For more information, contact Barbara Parker, Scholarship Chairman for the Titus County Fair, at 903-572-2490.