April Smith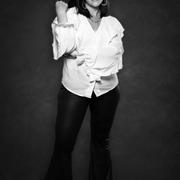 Singer/songwriter April N Smith is a Texas Country Music artist
currently signed with Smith Music. Smith released her first album titled
Enough in 2021. Her single "One Two Step Away" climbed to #7 on the
Texas Internet Radio Charts, #38 on the Texas Country Music charts,
and earned her a finalist nomination for New Female Vocalist of the
Year at the Texas Regional Radio Music Awards.
Smith continues to entertain audiences across the state of Texas with her
full band as well as doing acoustic shows. With a mix of classic country
covers and original music, fans spend the evening two-stepping and
waltzing the night away. Smith is known for taking requests and
covering a variety of country artists from Martina McBride to George
Strait.
Currently, Smith recently released her new single "HonkyTonk Angels"
and it is at #78 on the Texas Country Music charts after four short
weeks! Smith is gearing up to release two new songs that will begin
releasing to the public in the summer of 2023. You can expect to hear
more of the traditional country sounds fans have come to love from
Smith's music! Find her on all streaming music platforms and social
media platforms at @aprilnsmithmusic. You can also find additional
information by going to http://aprilnsmithmusic.com.
Share this: