Educational Tours Livestock Exhibits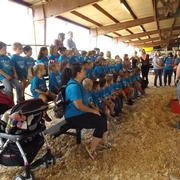 Elementary school students and preschoolers are invited to participate in this special educational program on Thursday, September 26, from 8:00 a.m. to 2:30 p.m. at the Livestock Pavilion behind the Titus County Civic Center. The program will consist of short educational presentations by high school agriculture students, with a tour of the livestock pavilion.

Each year the educational tours have been an outstanding success - from the standpoint of the students touring, the FFA Students who guid and speak with the children, and the adults who realize how much we can learn through the eyes of a child.

Contact: Susie Hearron @ 903-575-2081 to schedule tour.

Note for teachers and bus drivers:
Unloading: Please bring your bus in the Livestock Gate off of Washington Street to unload children
Loading: Please pickup children in the Civic Center parking lot. This is designed to assist with the flow of children during the Educational Tour. - Thank you.