Kate Watson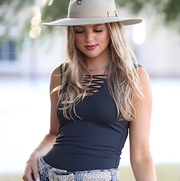 Meet American Idol, Kate Watson! Kate Watson is a rising star on the country music scene. Proud of her Texas roots, she still calls it "home." Kate's music career may have officially started when she was 15 years old, but music has always been at the center of her life. As the daughter of Christian recording artist and worship leader, Jesse Watson, Kate's first recording was a song her father wrote especially for her called, "Forever I'm Yours." The recording appeared on Jesse's album, What a Hope. Music is clearly in Kate's blood. Her mother played drums in the church band and introduced Kate to both piano and music theory. The three still work closely together at Lone Star Cowboy Church in Montgomery, Texas, the largest cowboy church in the world and the spiritual home of several country recording artists, most notably, Cody Johnson and Jesse Raub, Jr. In fact, their church is where country recording star, Parker McCollum, first heard Kate sing. "She's the real deal," said McCollum. "She has the total package: the voice, the look, and the way she connects with people. I am looking forward to great things from her."
You may remember Kate from the 2019 season of American Idol, where she received a standing ovation from Lionel Richie after singing his hit, "Hello." Her vocal chops are hard-earned: she is a student of renowned vocal coach, Tom McKinney (Beyonce, Maddie & Tae, Pentatonix). Not to mention, Kate's stage presence is simply captivating. Kate Watson fans will tell you that she obviously loves creating music, working hard, and seeing results. Most importantly, though, her fans have come to know that Kate truly loves people. Her main goal in life is to inspire audiences and provide hope through her songwriting and her live performances.

Kate Watson's latest release, "Red Lipstick and a Cowboy Hat," is an original, autobiographical song about thriving despite adversity. Kate's family moved quite a bit as she was growing up, and she often found it hard to fit in at school being the perpetual "new kid in town." But rather than allowing that to hold her back, Kate developed the kind of gritty determination that's driving her remarkable success in the music business—as she documents in her song, "you really burned me bad, but now I'm risin' from the ash." Her new single, "Red Lipstick and a Cowboy Hat," and its accompanying music video are available on all streaming platforms.

Kate Watson and her band tour regularly across Texas and beyond, performing intimate acoustic shows on a wide variety of stages, as well as delivering high-energy, full-band performances for crowds at larger concert venues. Don't miss Kate's show at the Titus County Fair Wednesday Sept 28 at 6 pm!
Kate Watson Music (thekatewatson.com)
Share this: