Noah's Way Exotic Petting Zoo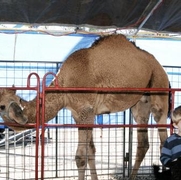 Ours is a very unique kind of petting zoo. There are absolutely no barriers once inside the enclosure.
All of the animals run freely with the public, and the public loves it!
The zoo contains a wide variety of animals including
llamas
Fallow Deer
Wallabies
African Pygmy Goats
Assorted exotic and domestic goats and sheep
Miniature Sicilian Donkeys
Antelope
Kangaroo
Alpacas
Camel
Various exotic cattle.
and occasionally a Zebra
All animals are hand raised at our farm and love interaction with people.
Noah's Way Exotic zoo was developed by my father, an agricultural science teacher of 20 years, and I in 1999.
With a dream and very little cash, my father and I started our business. We have since improved our zoo from just farm animals when we added various exotic animals.
We have a very knowledgeable staff. My wife and I are both graduates of Tarleton State University with our degrees in Agricultural Services and Development and Animal Science while my father is a graduate of Louisiana Tech University with his degree in Ag Ed.
We pay very close attention to all of our animals needs and ensure that at every event we always have someone available that is a knowledgeable representative of our business.
Share this: