Ice Cream Freeze Off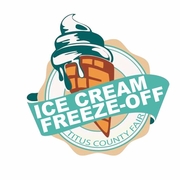 This contest is sponsored by the Titus County Fair Association and The Lions Club of Mt. Pleasant and will be held in front of the Titus County Civic Center on Saturday, September 29, 2018. After judging samples have been taken, contestants' ice cream will be for sale to ticket holders ($2 per ticket), starting at 11 a.m. Winners will be announced in front of Civic Center at 1:00 p.m.

ICE CREAM FREEZE OFF IS AN OPEN COMPETITION, not limited to residents of Titus County.
CONTEST RULES:
Contestants check in with Fair Officials at 10:45 in front of the Civic Center.
Please have recipes written or typed to turn in to chairman. NO RAW EGGS or uncooked egg products!
Winning recipes are the property of the Titus County Fair Association.
Minimum of one gallon of ice cream must be packed with paddle removed.
Categories: Vanilla, Chocolate, Fruit, and Novelty.
The ice cream will be judged on three criteria: Taste, Appearance, and Consistency. The judging will be "blind judging,"
Ice Cream will be sold after judging.
Ribbons awarded for winner in each category. Overall prizes are $100 for First Place, $50 for Second Place, and $25 for Third Place.
The overall contest ($100) winner is NOT eligible to enter this contest the year following their win. They will be eligible to enter the second year following their win. (Ex: The 2017 Contest Winner may not enter this contest in 2018. They may enter again in the 2019 contest.)
There is no entry fee for the Ice Cream Freeze Off.
All decisions are at the discretion of the judges.