Fine Arts
Kate Ball, Watercolor Still Life, Boogie Boots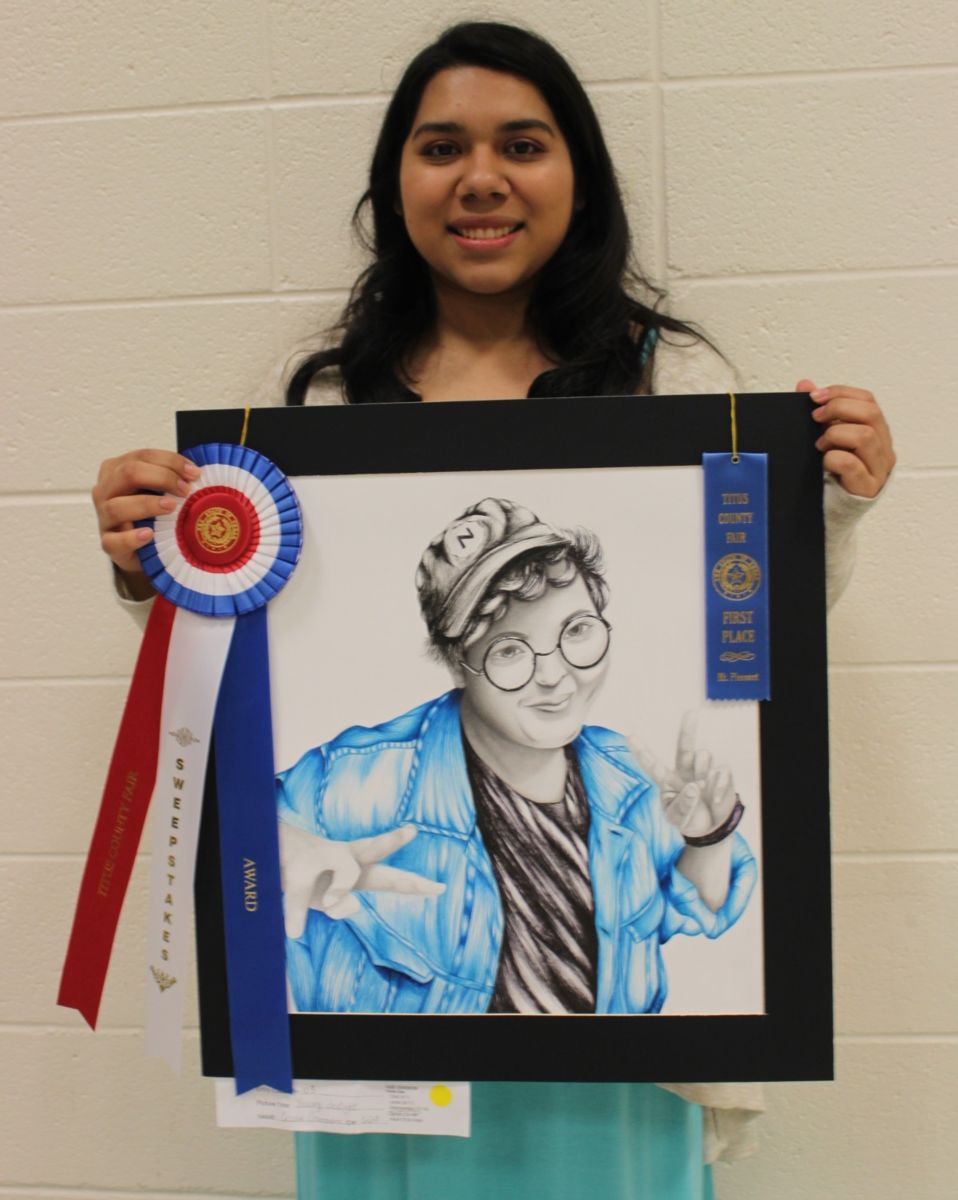 Cessia Gonzalez, Mixed Media, Young Delight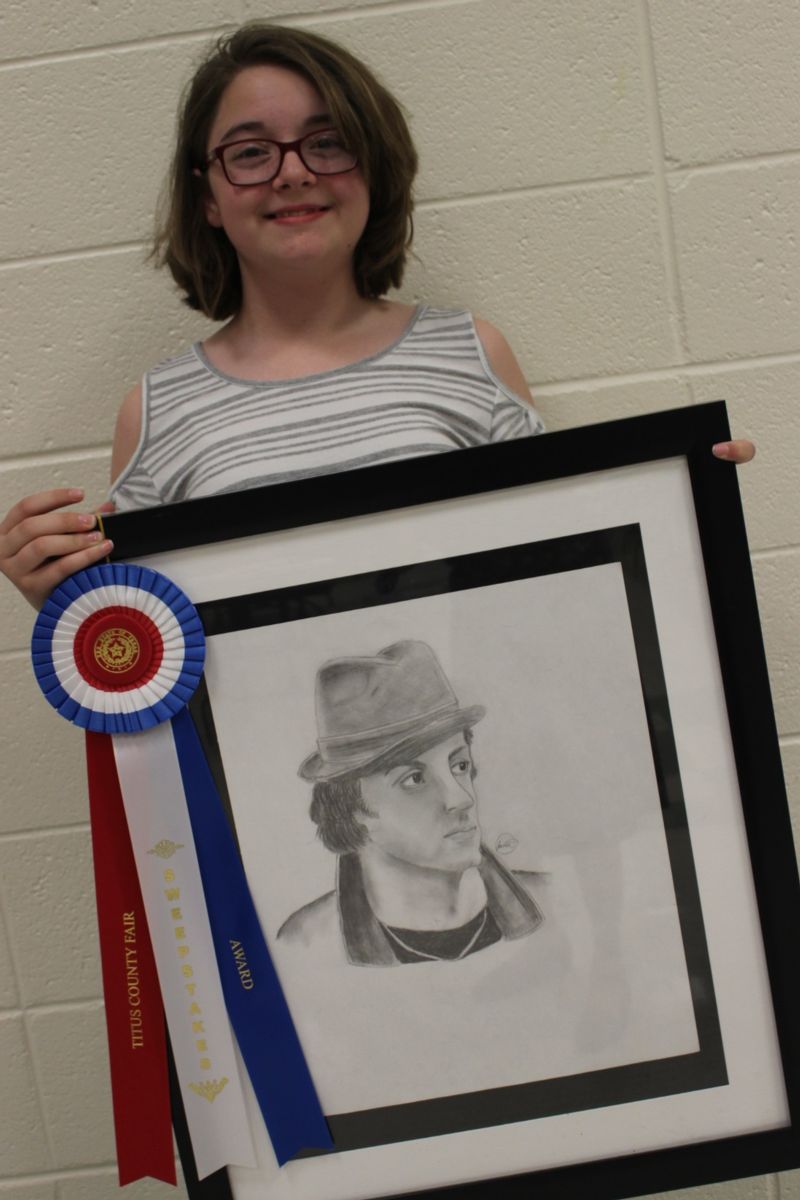 Jasmine Moon, B/W Drawing, Rocky
Judy Northum, Acrylic Landscape, Autumn's Love
Mt. Pleasant Art Society
Shirley Clay, Chairman
Registration Monday Sept 24th from 1 to 6 p.m., Titus County Civic Center
1. All entries must be made by and exhibited by residents of Titus, Camp, Morris, Franklin or Red River Counties ONLY or current students at NTCC (must show current NTCC ID). One free ticket to the fair will be given to each individual who enters one or more items in either Creative or Fine Arts.
2. Painting must have been done in the past three years. Previous Titus County Fair award winning pictures will not be eligible for competition.
3. Due to the limited space and time, the number of entries must be limited to four (4) paintings per person.
4. No painting shall exceed 30" x 40" including the frame and no smaller than 8" x 10".
5. ALL FRAMED WORK MUST BE SECURELY WIRED FOR HANGING. NO GLASS WILL BE ACCEPTED. All matted work must be matted with mat board, not poster board, construction paper, etc. and must have a permanent, securely attached hanger on back. Works not following this rule will NOT BE ACCEPTED. The Fine Arts Department reserves the right to prohibit the entry of any painting it deems unworthy or unsuitable for exhibition.
6. Care will be taken with all entries. The Titus County Fair Association nor Mt. Pleasant Art Society will not be responsible for any damage or theft.
7. Paintings must be picked up SUNDAY, September 30, from 2:00 PM to 3:00 PM. All entries must remain in place until pick-up time. No responsibility is taken by Fair Officials, TCFA, or Civic Center personnel for entries not picked up on Sunday.
8. Group entries brought by instructor or representative MUST BE PICKED UP AS A GROUP by instructor or a representative on Sunday from 2:00 PM to 3:00 PM (refer to rule #7).
9. Decision of the judges is final. (Medium and Subject Classes will be established according to number of entries for judging.)
10. Each entry will require 2 labels and must be labeled BEFORE entering using the Fine Arts Department Labels found in the back of the catalog, or on website. NO LABELING WILL BE DONE BY ANY FAIR OFFICIAL OR WORKER. Attach one label on the back on upper left-hand corner and turn in second label with entry.
11. ALL WORK MUST BE SIGNED ON FRONT.
12. All awards will be made on the basis of merit, and if in the opinion of the judge(s) no item in a class deserves first place, placing will be made by the judge(s).
13. Awards:
In all divisions, award ribbons will be presented as follows:
Pink Honorable Mention – placed on all entries not receiving 1st, 2nd or 3rd place
White Ribbon – 3rd place – 1 for each medium/subject class
Red Ribbon – 2nd – 1 for each medium/subject class
Blue Ribbon – 1st – 1 for each medium/subject class
Sweepstakes Award: - 1 given in each division
Blue Ribbon Winners in Children thru Senior Divisions will receive an art kit.
14. Sweepstakes Winners photos will be taken individually on Sunday afternoon during pickup.
AGE DIVISIONS:
Children's Art – ages 4 - 7 (blue)
Junior –ages 8 - 11 (red)
Intermediate - ages 12 – 14 green)
Senior – ages 15 – 18 (yellow)
Adult – ages 19 & up (orange)

MEDIUM AND SUBJECT CLASSES FOR ALL DIVISIONS:

!!! USE LABELS !!! Apply one label in upper left-hand corner on back and turn in second label with each entry. Entry Labels

ACRYLIC - Section A
Class 1 - Landscape (entry code: FA-A01)
Class 2 - Still Life (entry code FA-A02)
Class 3 - Portrait (entry code FA-A03)
Class 4 - Animal/Bird (entry code FA-A04)
Class 5 - Abstract (entry code FA-A05)
Class 6 - Fantasy/Comic (entry code FA-A06)
Class 7 - Original (entry code FA-A07)

OIL - Section B
Class 1 - Landscape (entry code: FA-B01)
Class 2 - Still Life (entry code FA-B02)
Class 3 - Portrait (entry code FA-B03)
Class 4 - Animal/Bird (entry code FA-B04)
Class 5 - Abstract (entry code FA-B05)
Class 6 - Fantasy/Comic (entry code FA-B06)
Class 7 - Original (entry code FA-B07)

WATERCOLOR - Section C
Class 1 - Landscape (entry code: FA-C01)
Class 2 - Still Life (entry code FA-C02)
Class 3 - Portrait (entry code FA-C03)
Class 4 - Animal/Bird (entry code FA-C04)
Class 5 - Abstract (entry code FA-C05)
Class 6 - Fantasy/Comic (entry code FA-C06)
Class 7 - Original (entry code FA-C07)

DRAWING (BLACK & WHITE) - Section D
Class 1 - Landscape (entry code: FA-D01)
Class 2 - Still Life (entry code FA-D02)
Class 3 - Portrait (entry code FA-D03)
Class 4 - Animal/Bird (entry code FA-D04)
Class 5 - Abstract (entry code FA-D05)
Class 6 - Fantasy/Comic (entry code FA-D06)
Class 7 - Original (entry code FA-D07)
DRAWING (COLOR) - Section E
Class 1 - Landscape (entry code: FA-E01)
Class 2 - Still Life (entry code FA-E02)
Class 3 - Portrait (entry code FA-E03)
Class 4 - Animal/Bird (entry code FA-E04)
Class 5 - Abstract (entry code FA-E05)
Class 6 - Fantasy/Comic (entry code FA-E06)
Class 7 - Original (entry code FA-E07)
PASTEL - Section F
Class 1 - Landscape (entry code: FA-F01)
Class 2 - Still Life (entry code FA-F02)
Class 3 - Portrait (entry code FA-F03)
Class 4 - Animal/Bird (entry code FA-F04)
Class 5 - Abstract (entry code FA-F05)
Class 6 - Fantasy/Comic (entry code FA-F06)
Class 7 - Original (entry code FA-F07)
CRAYON - Section G
Class 1 - Landscape (entry code: FA-G01)
Class 2 - Still Life (entry code FA-G02)
Class 3 - Portrait (entry code FA-G03)
Class 4 - Animal/Bird (entry code FA-G04)
Class 5 - Abstract (entry code FA-G05)
Class 6 - Fantasy/Comic (entry code FA-G06)
Class 7 - Original (entry code FA-G07)
COMPUTER ASSISTED - Section H
Class 1 - Landscape (entry code: FA-H01)
Class 2 - Still Life (entry code FA-H02)
Class 3 - Portrait (entry code FA-H03)
Class 4 - Animal/Bird (entry code FA-H04)
Class 5 - Abstract (entry code FA-H05)
Class 6 - Fantasy/Comic (entry code FA-H06)
Class 7 - Original (entry code FA-H07)
MIXED MEDIUM - Section I
Class 1 - Landscape (entry code: FA-I01)
Class 2 - Still Life (entry code FA-I02)
Class 3 - Portrait (entry code FA-I03)
Class 4 - Animal/Bird (entry code FA-I04)
Class 5 - Abstract (entry code FA-I05)
Class 6 - Fantasy/Comic (entry code FA-I06)
Class 7 - Original (entry code FA-I07)
PEN & INK - Section J
Class 1 - Landscape (entry code: FA-J01)
Class 2 - Still Life (entry code FA-J02)
Class 3 - Portrait (entry code FA-J03)
Class 4 - Animal/Bird (entry code FA-J04)
Class 5 - Abstract (entry code FA-J05)
Class 6 - Fantasy/Comic (entry code FA-J06)
Class 7 - Original (entry code FA-J07)