Coffey Anderson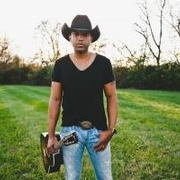 Saturday, Sept. 30th - 6:00pm - Main Stage
Coffey grew up in the small town of Bangs, Texas. His father worked at the local jail and his mother was a junior high English teacher. He attended Howard Payne University and borrowed a guitar from a then girlfriend's dad. Learning chords in his dorm room and singing would attract his fellow college students to come and listen. Coffey uses music, comedy, and his personality to bring a spirit of joy and excitement to those around him. Coffey, Southern Man, standing at 6'5″(without his hat), has an amazing stage presence along with a voice that is by far one of the best in country music! In 2008, Coffey was awarded 3rd place out of over 52,000 contestants on NBC's Nashville Star. Currently, Coffey has over 300,000 iTunes downloads (without a record label), over 52,000 You Tube subscribers, 250,000 Facebook likes, over 31,000 Twitter followers and over 25,000 Instagram followers! Coffey is constantly touring. He's on stage, performing rodeos, fairs, private events, festivals, and faith-based shows. He is also a national commercial actor with the likes of Disney, Taco Bell, and Blue Cross Blue Shield.
Coffey has performed on Fox and Friends, Glenn Beck's The Blaze, CMT, BET, TBN, NBC, and countless stages making people laugh with jokes, and dance with his golden voice. Since his stint on NBC's Nashville Star, Coffey typically performs 2-3 shows per week. From small stadiums to rodeos, coffee houses to bars and taverns, weddings and private events, and even hospitals and funerals, Coffey has found his niche in a variety of atmospheres across the world. A fan favorite night in – night out, Coffey appeals to all markets with his down-to-earth charisma, southern charm, and comedic personality.
Coffey has partnered with great charity organizations like: AHERO.com, the Military Warriors Support Foundation based in San Antonio, Texas in order to help raise funds to award mortgage free homes to wounded war heroes. He has also partnered with Leer Vineyards out of Byron, California to become the face of Heroic Red Wine, which is a red wine that gives a portion of every bottle sold to the MWSF to support the awarding of these mortgage free homes. Coffey's life-size stand up figure can now be found in Wal-Mart Supercenter's across the country, alongside the Heroic Red wine. In June of 2015, Coffey performed at his first ever CMA Festival in Nashville, TN. With his unique voice and ability to engage the audience and capture their attention, new and existing fans gathered to witness his performance.
Share this: