Chad Cooke Band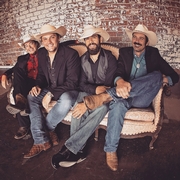 Four modern-day cowboy crooners from Houston are paving their way in the Texas country music scene. In and out of honky-tonks from Oklahoma City to san Antone, the Chad Cooke Band brings their unfiltered version of Texas county Music to whiskey-drinkin', two-steppin', rowdy fans, one night at a time.
Drawing on influences Brooks and Dunn and the Eagles, the band utilizes three and four part harmonies with a 90's country rock-n-roll edge.
Since the release of their debut album, Easy Way Home, in December of 2016, the Chad Cooke Band has produced two Top 50 singles on Texas Radio - 'Oil Man', 'Come and Take It'. The 'Oil Man' music video has amassed over 6 Million Views across social platforms!
Following the success of 'Oil Man' the band set off to Nashville in March of 2018 to record their next CD. Their sophmore album, Risk It All, is honest Texas Country music with just enough Nashville shine to attract the attention of music industry executives. The first single 'Whatever It Takes' is currently top 20 on the Texas Radio chart and climbing.
Chad Cooke Band has shared the stage with acts such as Aaron Watson, Whiskey Myers, Zane Williams, Aaron Lewis, Josh Abbott, Kyle Park, Jon Wolfe, and Andy Griggs.
Share this: